When you're working with wood your choice of stain makes all the difference in how the final product looks and lasts. Whatever wood project you're tackling, we have the stain colors and types needed to complete it. At Sweet's Decor, we're ready to help you bring your vision to life with high-quality stain and stain products.
Sweet's Decor is proud to carry a wide variety of stain brands, and we offer a large colour selection. In addition to stain we also carry the products and accessories you'll need to complete your stain project.
When you visit us, you can rest assured that we'll provide you with expert advice and superior knowledge of the best stain and accessories for your household project. Whether you're completing a small project or multiple large projects, we have the stain and accessories you need to get the job done right.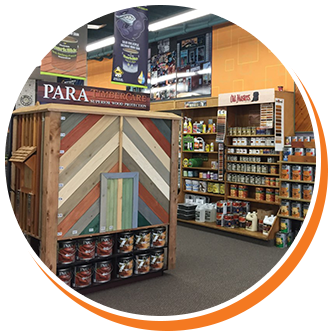 Brands We Carry
We Carry the following Brands:
Old Masters

Circa 1850 Stain 'N Varnish
Sico Proluxe Wood Finishes
Timber Pro
Para TimberCare
Cloverdale SharkSkin
Cloverdale WeatherOne
Visit Sweet's Decor today to view our extensive Stain colours and to learn more about the products and brands we offer. We look forward to seeing you in the store.
What Are You Waiting For?